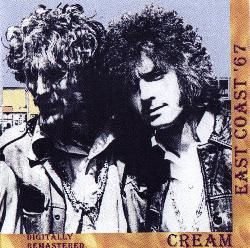 East Coast '67
Waltham, Mass. - September 9-10, 1967 - lun - CRM201/202 - Aud 3

Disc 1:
1) Tales of Brave Ulysses
2) Sunshine of Your Love
3) NSU
4) Sitting On Top of the World

Disc 2:
1) Stepping Out
2) Traintime
3) Toad

Psychedelic Supermarket - Boston, Mass. - September 10-16, 1967 - 3

4) Spoonful
5) Sweet Wine
6) Tales of Brave Ulysses
7) Sunshine of Your Love

Note: The CD cover lists the date of the Brandeis University date at Waltham, Ma. as 10 September 1967 - the concert was advertised for the 9th but the band went on stage at 2:15am on the 10th, so both dates could be considered correct (thanks to RW!)

"Psychedelic Supermarket" - is that a great name for a club in the 60s or WHAT?
For more information about this show, and this release, click here.