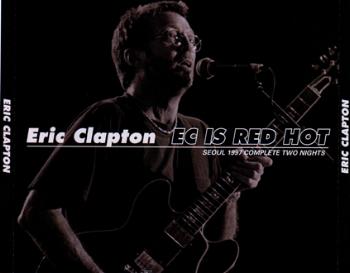 Eric Clapton - EC is Red Hot
Seoul, Korea - October 9-10, 1997 - Heart Breakers - Aud 3

Disc 1: October 9, 1997

Layla
Change the World
Nobody Knows You
Tears in Heaven
Going Down Slow
Broken Hearted
Pilgrim
Sick and Tired
I Shot the Sheriff
Disc 2: October 9, 1997

Wonderful Tonight
Tore Down
Have You Ever Loved a Woman
Tearing Us Apart
Cocaine
Old Love
Everyday I Have the Blues
Before You Accuse Me
Disc 3: October 10, 1997

Layla
Change the World
Nobody Knows You
Tears in Heaven
Going Down Slow
Broken Hearted
Pilgrim
Sick and Tired
I Shot the Sheriff
Disc 4: October 10, 1997

Wonderful Tonight
Tore Down
Have You Ever Loved a Woman
Tearing Us Apart
Cocaine
Old Love
Sunshine of Your Love
Every Day I Have the Blues
Before You Accuse Me
Comments: Recorded at Seoul's Olympic Stadium, these recordings aren't actually as bad as one might expect from the sound quality rating. They are clear but simply recorded a little lower in average volume than one would normally expect; these are excellent candidates for a nice remastering project. The performances themselves are simply stellar, and better overall than any that would follow on the band's fall 1997 tour of Japan.

Coming off his summer tour with the Jazz "Legends", EC's playing is refreshed and he sounds ready to go, playing with an energy and enthusiasm that is also brought out because of new material previewed at these performances. The addition of Joe Sample to the band also brought a new dimension to the sound of the ensamble, and when paired with Steve Gadd, lends a new rhythmic take on some Clapton standards that wouldn't be heard before or since.

The first show in the set, recorded on October 9, features the first public performance of the electric version of "Broken Hearted" (EC played a solo acoustic version at the Music for Monserrat benefit concert earlier that fall), and the first public performances of a couple of numbers from his forthcoming album to be released the following year, the reworking of the blues standard "Going Down Slow" and the title track to the upcoming "Pilgrim".

The recording for the second performance, held on the following night, is a little rough in spots, including a dropout in the DAT tape during "Pilgrim" and then a few volume fluctuations as the taper adjusts the recording levels, but is still quite listenable and a ton of fun as well. Anyone who has ever doubted Steve Gadd's reputation as one of the finest drummers in the world need look no further than his standout performance on "Sick and Tired", where he breathes new life into what otherwise could have had a stereotypically tired shuffle feel. Pushed in new directions by this band with serious jazz credentials, EC's solo on "I Shot the Sheriff" is simply breathtaking, and takes him from the pentatonic into the strat-a-tonic as he seemingly uses every available note on the fretboard and perhaps finds a couple of new ones. The renditions of "Old Love" and "Before You Accuse Me" similarly take on fresh new feeling, and are attacked with vigor by the band.

Overall, the recordings contained on this set don't stand up to the typically excellent ones from the tour of Japan that would follow, but the performances sure do, and although one may find individual performances of a song that may be better on one of the later shows, the overall performanes here taken as a whole are arguably better than those that would follow. Highly recommended.