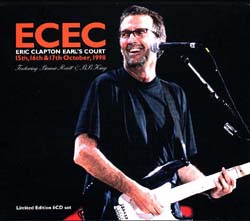 EC EC
Earl's Court, UK - 15th, 16th, and 17th October, 1998
Zigzag Records
Sound Quality: Aud 5
Disc 1: October 15, 1998 Part 1
1) My Father's Eyes
2) Pilgrim
3) One Chance
4) River of Tears
5) Going Down Slow
6) She's Gone
7) Driftin'
8) Tears in Heaven
9) Layla
10) Change the World
Disc 2: October 15, 1998 Part 2
1) Old Love
2) Crossroads
3) Have You Ever Loved a Woman
4) I Shot the Sheriff
5) Wonderful Tonight
6) Cocaine
7) Before You Accuse Me (Featuring Bonnie Raitt)
8) You Were There
Disc 3: October 16, 1998 Part 1
1) My Father's Eyes
2) Pilgrim
3) One Chance
4) River of Tears
5) Going Down Slow
6) She's Gone
7) Driftin'
8) Tears in Heaven
9) Layla
10) Change the World
Disc 4: October 16, 1998 Part 2
1) Old Love
2) Crossroads
3) Have You Ever Loved a Woman
4) I Shot the Sheriff
5) Wonderful Tonight
6) Cocaine
7) Every Day I Have the Blues (w/ B.B. King and Bonnie Raitt)
8) Blues Jam (w/ B.B. King and Bonnie Raitt)
Disc 5: October 17, 1998 Part 1
1) My Father's Eyes
2) Pilgrim
3) One Chance
4) River of Tears
5) Going Down Slow
6) She's Gone
7) Driftin'
8) Tears in Heaven
9) Layla
10) Change the World
Disc 6: October 17, 1998 Part 2
1) Old Love
2) Crossroads
3) Have You Ever Loved a Woman
4) I Shot the Sheriff
5) Wonderful Tonight
6) Cocaine
7) Before You Accuse Me (Featuring Bonnie Raitt)
Performance Notes:
Incredible performances! Highlights:
15th: "It's a good sign if I break a string in the first number...it's going to be a good night!"
16th: "I hope we don't 'peak' too soon...there's always a danger of that, you know!" (after One Chance)
17th: "I generally don't talk too much in concert...and I usually fear playing at home, but I just wanted to say that these three days have been great"
Overall: Excellent audience recordings, from lights down to lights up, incredible performances.