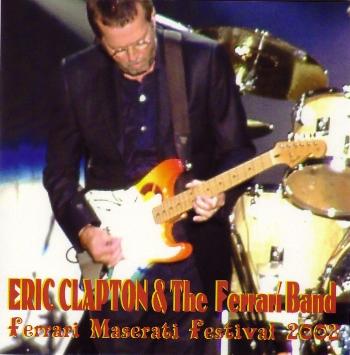 Eric Clapton - Ferrari Maserati Festival 2002
Kent, UK - August 3, 2002 - CD-R2 - Aud 5

Disc 1:

Knock Ron Wood
Reconsider Baby
Can't Judge a Book
Blue Monday
Sweet Little Rock and Roller
Third Degree
Paradise (Half as Nice)
Dust My Broom
Knockin' On Heaven's Door
Good Golly Miss Molly
You Win Again
Got My Mojo Working
Disc 2:

Hoochie Coochie Man
Mary Ann
Whole Lotta Shakin'
Gin House
Cocaine
Whiter Shade of Pale
Five Long Years
Little Queenie
Shake, Rattle, and Roll
Comments: Eric Clapton was joined by pals Gary Brooker, Albert Lee, Andy Fairweather-Low, Dave Bronze and Henry Spinetti to form the "Ferrari Band", who played at the Ferrari Maserati Festival at Brands Hatch, Kent, UK on August 3, 2002. The name of the first song is not mis-typed - as sort of an in-joke, they had "Knock On Wood" listed as ""Knock Ron Wood" on the setlist! A nice loose, fun filled show. Identical in sound quality to the Mid Valley release (and how often do you see THAT phrase?), but the track order is slightly different as this release splits the two Muddy Waters blues numbers. Disc running times 56:55 / 55:06.