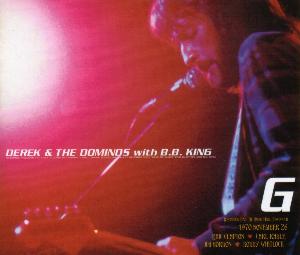 Derek and the Dominos - "G"
Music Hall, Cincinnati - November 26, 1970 - Mid Valley - MVR-113-2 - Aud 4

Disc 1:

Got to Get Better in a Little While
Roll It Over
Blues Power
Stormy Monday
Why Does Love Got to Be So Sad
Disc 2:

Little Queenie
Sweet Little Rock and Roller
Tell the Truth
Let it Rain
Everyday I Have the Blues
Geetarz Comments: As usual, Mid Valley takes aim and knocks the ball out of the park with another stunning remaster that leaves all previous releases in the dust. An audience recording but very listenable, probably the most so of any of the Dominos' audience recordings. But the real treat here is in the jam at the end with B.B. King, on "Every Day I Have the Blues", which is wonderfully rearranged with a punchy R&B type feel. Throw away your copy of Garage, which in comparison is just "Garbage". Great stuff!
Visitor Comments: "After the Fillmore concerts this is probably the next best recorded release of D&D in concert. It does tail off a bit soundwise towards the end, but nonetheless is still very good. B.B. King joins them on the last track for a bit of a jam which all concerned seem to enjoy. Warning: this concert can also be found on an earlier release entitled 'Garage'. Do not buy this. The sound quality is so bad it's a wonder anyone had the nerve to release it in the first place." - DR