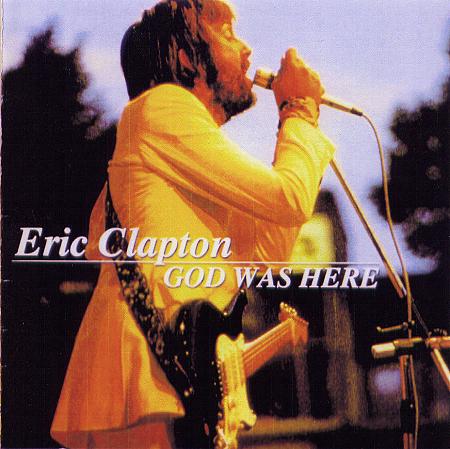 Front Cover
Back Cover
Eric Clapton - God Was Here
Various 1974/1975 - Further Along - FAP-012/013 - SB 5
Disc 1:
Smile
Let it Grow
Can't Find My Way Home
Blues Power
Have You Ever Loved a Woman
Tell the Truth
Willie and the Hand Jive => Get Ready
Let it Rain
Key to the Highway
Presence of the Lord
Disc 2:
I Shot the Sheriff
Little Rachael
Let it Grow
Get Ready
Badge
Layla
Eyesight to the Blind =>
Why Does Love Got to Be So Sad?
Disc 1 recorded at the International Ampitheatre, Chicago, Ill. on July 2, 1974. Disc 2, Tracks 1-6 recorded at Congress Centrum, Hamburg, Germany, on November 24, 1974. Disc 2, Track 7, recorded at the Coliseum, Knoxville, Tennessee, on June 19, 1975. EC throws a chorus of "Baby, Don't Do It" into "Get Ready". Before "Little Rachael" EC comments, "this is an old Cream song that we used to do in Germany when we played here ... never got it out on record unfortunately ... but just for you ...".