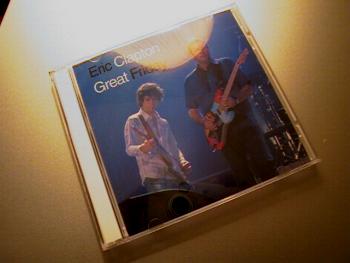 Eric Clapton - Great Friday LuLu !!!
Antwerp, Belgium - April 9, 2004 - Geetarz 099/100 - Aud 4

Disc 1:

Let it Rain
Hoochie Coochie Man
Bell Bottom Blues
I Shot the Sheriff
Milkcow's Calf Blues
When You Got a Good Friend
They're Red Hot
Kind Hearted Woman Blues
Got to Get Better in a Little While
I Want a Little Girl
Change the World
Have You Ever Loved a Woman
Disc 2:

Badge (incomplete)
Wonderful Tonight
Layla
Cocaine
Band Introduction
Sunshine of Your Love (*)
Got My Mojo Working (*)
Comments: Don't you hate it when you get this awful, sinking feeling that you have done something wrong, like this: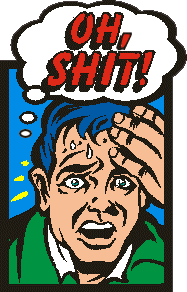 We (and this would be the Royal "we") here at Geetarz have been accused by a very irate SD subscriber's wife (his mommy apparently not being available), of being too harsh and judgmental of those who duplicate recordings with disregard to quality:
I came across an entry from the digest of my better half's tool bar. Here's my take of the Arch Diocese called Geetarz. Geetarz was offended when a third party recieved a copy of "Stone Crazy" with gaps. Slight gaps, but still gaps. My God is Stone Crazy the end of all compilations and concerts and are gaps that big a pain in the keister? Me thinks if the Almighty Geetarz would get his hard drive out of his main-frame, slide down the leg of his high horse and come out of where he spends 1,000 admitted hours putting together his website - very impressive as it is, damn nice - and realize that the rest of us peons (or may I say, subjects) aren't as savvy as him. The gaps on . Stone Crazy are on honest mistake I'm sure. Remember when you started burning Geetarz? And who died to make you the caretaker of the EC De-vault at the Smithsonian?
Having been put to task by LuLu - we do stand guilty as charged. It is unfair and discriminatory to restrict CD trading to only those people who have the time and interest in producing quality copies. Therefore, in the interest of fairness, Geetarz announces a very special limited edition CD-R release for the LuLu's of this world. Here at Geetarz, we aim to please, and you will find exclusive to this special offer:

High quality cover "scans" taken with a digital camera
2 second gaps already added for your convenience
Audio extraction at top speed with no error correction
Gaps added, then edited out of the copy - then added again!
Tracks converted to mp3, then back to WAV files
Recorded on cheap Taiwanese media because ... We Care

Now, no one need feel left out of the CD trading fun and games! We at Geetarz have gone out of our way to produce already-corrupted copies of the Great Friday set being enjoyed by many on the Slowhand Digest, so you won't have to. It's a LuLu of a great time - write today for your free copy!