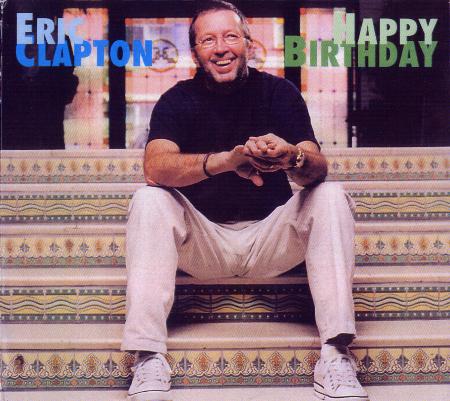 Front Cover
Front Inside
Back Cover
Back Inside
Eric Clapton - Happy Birthday
Stuttgart, Germany - March 30, 2004 - Home(r) Entertainment - HEN 118-1/2 - Aud 5
Disc 1:
Happy Birthday Eric
Let it Rain
Hoochie Coochie Man
Walk Out in the Rain
Bell Bottom Blues
Change the World
When You Got a Good Friend
Milkcow's Calf Blues
Kindhearted Woman Blues
They're Red Hot
I Shot the Sheriff
Disc 2:
Have You Ever Loved a Woman
Got to Get Better in a Little While
I Want a Little Girl
Badge
Wonderful Tonight
Cocaine
Layla
Sunshine of Your Love
Got My Mojo Workin'
A really nice audience recording, and particularly fun when auditioned on a nice set of headphones. Includes a standout performance of "Have You Ever Loved a Woman", easily one of the finest of the 2004 Tour, complete with a key change not found in most versions the band played. "Cocaine" lacks a bit of enthusiasm and doesn't quite stand up to later versions, but the band more than make up for this with a spirited "Layla" in which Doyle takes the lead solo, spurring EC onwards a bit. Some slight diginoise at the end of "Sheriff" mars an otherwise impeccible recording.