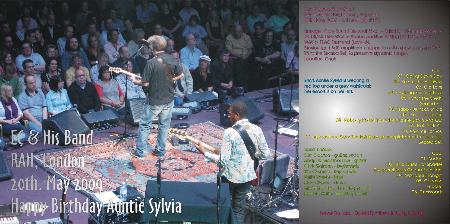 Front Cover
Back Cover
Eric Clapton - Happy Birthday Auntie Sylvia
London, England - May 20, 2009 - M-Bomb - CD-R2 - TBA
Disc 1:
Going Down Slow
Key to the Highway
Old Love
Anything For Your Love
I Shot the Sheriff
Happy Birthday Sylvia
Layla
Nobody Knows You
Not Dark Yet
Anytime For You
Somewhere Over the Rainbow
Disc 2:
Badge
Little Queen of Spades
Everything's Gonna Be All Right
Wonderful Tonight
Cocaine
Crossroads
Lineage: Core Sound Binaural Mics > Edirol R-1 Flash Recorder > 24-bit/44.1kHz WAV > Adobe Audition Editing (32-Bit) > 16-bit WAV > FLAC Frontend (Level-6 + Align on Sector Boundaries).

Mastering: +6dB amplitude change to entire show, an extra 3dB lift to the Seated Set, to preserve dynamic range.

Location: Choir

Notes: At the start of the "seated set," Eric announced to the crowd that it was his Aunt Sylvia's birthday. She sat almost immediately in front of him, in a red-sleeved top, under a grey waistcoat, in the front row and acknowledged the crowd by waving her arms.
Geetarz Comments:
TBA.