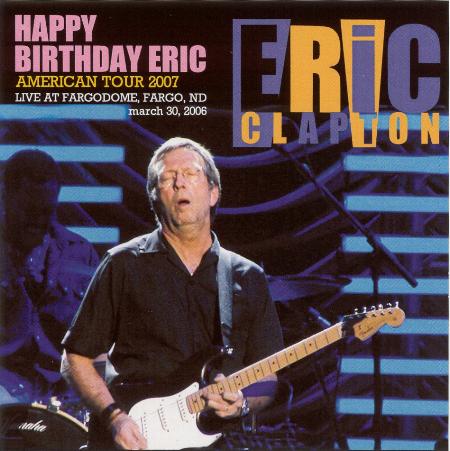 Front Cover
Back Cover
Eric Clapton - Happy Birthday Eric
Fargo, North Dakota - March 30, 2007 - Blister 011A/B - Aud 3


Disc 1
01. Tell The Truth
02. Key To The Highway
03. Got to Get Better in A Little While
04. Little Wing
05. Why Does Love Got To Be So Sad
06. Driftin'
07. Outside Woman Blues
08. Nobody Knows You When You're Down and Out
09. Running On Faith

Disc 2
1. Motherless Children
2. Little Queen of Spades
3. Further On Up The Road
4. Wonderful Tonight
5. Layla
6. Cocaine
7. Crossroads (with Robert Cray)

The Band:
Eric Clapton - guitar, vocals
Doyle Bramhall II - guitar
Chris Stainton - keyboards
Tim Carmon - keyboards
Willie Weeks - bass
Steve Jordan - drums
Michelle John - backing vocals
Sharon White - backing vocals


Lineage:
Edirol R-09>Sound Forge>CD Wave Editor>Flac Frontend 6> Dime>??>Silver>EAC>Flac 6>you

Comments from original torrent on Dime
"This is my first recording of a concert, hope you enjoy it, I did!!

I recorded this from section 49 on the floor, just to the left of the soundboard.

Some of those around me were quite well lubricated and enjoyed cheering and
attempted to sing happy birthday to Eric at one point."

The Blister label used my recording for this release, you can hear the same
people on the first track.   In all honesty though, it has been improved.  But, this
recording is still intended to be FREE and enjoyed by all.

So no need to buy this release, download it and share!