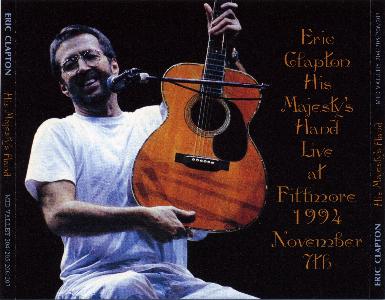 Eric Clapton - His Majesty's Hand
San Francisco, Ca. - November 7, 1994 - Mid Valley 204/5/6/7 - SB 5

Disc 1:

Motherless Child
Malted Milk
How Long
Kidman Blues
County Jail
.44
Blues All Day Long
Standing Around Crying
Hoochie Coochie Man
It Hurts Me Too
Blues Before Sunrise
Third Degree
Reconsider Baby
Disc 2:

Sinner's Prayer
Can't Judge Nobody
Someday After a While
Tore Down
Have You Ever Loved a Woman
Crosscut Saw
Five Long Years
Crossroads
Groaning the Blues
Ain't Nobody's Business
Disc 3:

DJ: Introduction
Blues Leave Me Alone
Eric Clapton: Interview
Standing Around Crying
.44
It Hurts Me Too
Five Long Years
GM: Spot
DJ EC: Interview
Crossroads
Malted Milk
Motherless Child
How Long
GM: Spot
Reconsider Baby
Sinner's Prayer
GM: Spot
Disc 4:

DJ: EC & BB King: Interviews
Everyday I Have the Blues
Someday After a While
Crosscut Saw
GM: Spot
Have You Ever Loved a Woman
Tore Down
GM: Spot
Groaning the Blues
EC Interview: Ain't Nobody's Business
GM: Spot
EC Interview: Early in the Morning
Driftin'
EC Interview
Announcement: Next Week
Announcement: This Week
Announcement: Tonight
Comments: Discs 1 and 2 of this set were taken from a widely circulated video filmed at the first of the three Fillmore shows by Martin Scorcese's crew. Although the sound is mono, Mid Valley have as always done a nice job of tweaking and massaging it into great shape. Discs 3 and 4 are clones of the original radio station discs of the radio show, complete with interviews, that was distributed by the MediaAmerica Radio Network. Sourced from those original discs, and not from FM broadcast, quality is outstanding. Highly recommended.