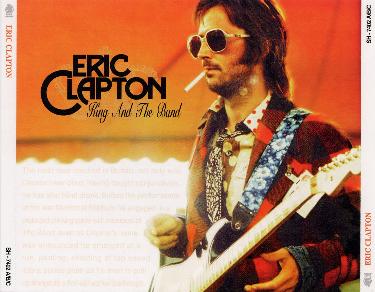 Front Cover
Front Inside
Back Cover
Back Inside
Eric Clapton - King and the Band
July 1974 - Silver Horse SH-7402 A/B/C - Aud 2/3
Disc 1:
Smile
Let it Grow
Let it Rain
Key to the Highway
Willie and the Hand Jive
Get Ready
Badge
Tell the Truth
Have You Ever Loved a Woman (with Freddie King)
Disc 2:
Little Queenie
Crossroads
Chest Fever (By The Band)
Goin' to Brownsville (Legs Larry Smith)
Smile
Let it Grow
Hideaway
Have You Ever Loved a Woman (with Freddie King)
Disc 3:
Tell the Truth
Willie and the Hand Jive
Get Ready
Steady Rollin' Man
Little Wing
Blues Power
Presence of the Lord
Little Queenie
Crossroads
Disc One and Disc Two, Tracks One and Two, were recorded at Roosevelt Stadium, New Jersey on July 7, 1974. The remainder were recorded at War Memorial Stadium, Buffalo, New York, on July 6, 1974.

What a pitiful collection! This should have been titled "EC at his nadir". The Roosevelt Stadium show is presented here in its entirety as an audience recording, which is listenable but not readily so - one will find much more enjoyment for repeated listening to the various soundboard recordings of this performance, the best being the 3BR release.

Things get even worse with the Buffalo performance, which is considered by many (including your reviewer) to be the worst EC performance of all time. It is true that in some cases there are those occasional "drunk Eric" 1970s performances that are so bad they are entertaining, but this is definitely not one of them. As Huey Lewis once sang, "Sometimes ... Bad is Bad". And just when you thought it could not get any worse, the folks at Silver Horse elected to attempt to clean up the otherwise miserable audience recording of this performance, and like so many such misguided efforts, the resulting damage done by a coarse hand on the controls has resulted in phase shifting and upper-level artifacts that render this portion of the set unlistenable by anyone with a keen ear.

Shame on the usually-tasteful Silver Horse label for releasing this piece of utter dogshit - AVOID.