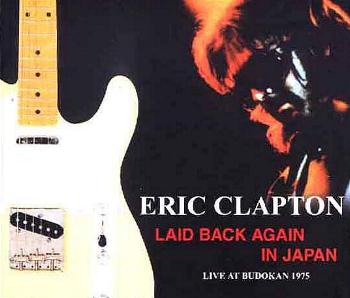 Cover Art
Eric Clapton - Laid Back Again in Japan
Tokyo, Japan - November 1, 1975 - Reel Master - Aud 2
Disc 1:
Introduction
Layla
Knockin' On Heaven's Door
Key to the Highway
Badge
Can't Find My Way Home
Disc 2:
I Shot the Sheriff
Teach Me to Be Your Woman
Have You Ever Loved a Woman
Tell the Truth
Eyesight to the Blind / Solos
Why Does Love Got to Be So Sad?
This is a fairly miserable audience recording and fairly useless for anyone but the diehard collectors who have to search out every show. There are some fairly tasty performances here, but alas the recording quality is such that it just isn't worth the effort. Avoid.