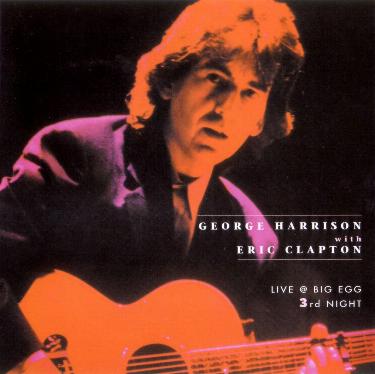 George Harrison - Live at Big Egg 3rd Night
Tokyo, Japan - December 17, 1991 - Front Page FP-0040008/9 - Aud 3

Disc 1:

I Want to Tell You
Old Brown Shoe
Taxman
Give Me Love
If I Needed Someone
Something
What is Life
Dark Horse
Piggies
Pretending
Old Love
Badge
Wonderful Tonight
Disc 2:

Got My Mind Set On You
Cloud Nine
Here Comes the Sun
My Sweet Lord
All Those Years Ago
Cheer Down
Devil's Radio
Isn't It a Pity
While My Guitar Gently Weeps
Roll Over Beethoven
Comments: The recording itself is fairly mediocre (this is not surprising considering the size of the venue), but EC's playing in particular is fantastic, Old Slowhand was on fire this night and his solo set alone would be worth the price of admission. One wonders why the Powers That Be didn't simply issue this complete performance as "Live in Japan", instead choosing performances from the inferior Osaka shows. Recommended.