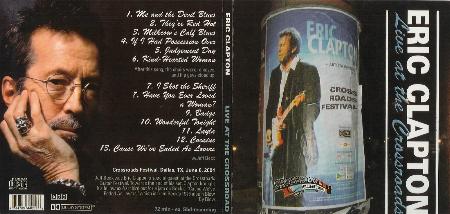 Front Cover
Back Cover
Eric Clapton - Live at the Crossroads
Dallas, Texas - June 6, 2004 - lun - nun - SB 5
Track List:
Me and the Devil Blues
They're Red Hot
Milkcow's Calf Blues
If I Had Posession Over Judgment Day
I Shot the Sheriff
Have You Ever Loved a Woman
Badge
Wonderful Tonight
Layla
Cocaine
Cause We've Ended as Lovers (with Jeff Beck)
Packaged in an attractive gatefold layout. Far superior to many other versions of this performance! This ia a nice, crisp, clean soundboard recording that does not suffer from the poor, lossy compression found on other titles. While obviously still from a compressed format, this recording is an order of magnitude better and worth a listen - a fantastic performance to boot!