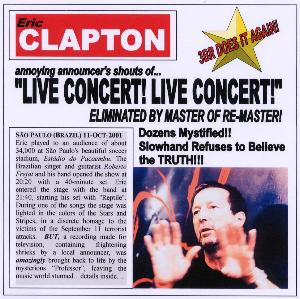 Live Concert! Live Concert!
São Paulo, Brazil - October 11, 2001 - 3BR Records - 3BR 2014 - SB 6

Track List:

Got You On My Mind
Tears in Heaven
Bell Bottom Blues
Change the World
Badge
Hoochie Coochie Man
Cocaine
Wonderful Tonight
Layla
Sunshine of Your Love
Somewhere Over the Radio
Comments: An absolutely essential release of the Sao Paulo, Brazil show, which could be subtitled "The Attack of the Killer B (Three)". What a great mix, and prominently up front is Greg Phillingaines' wonderful, swirly, inside out, upside down Hammond B3 organ. Great version of "Got You On My Mind", and also a very nice "Change the World". "Sunshine" is a nice treat as well, and old Slowhand decides to rip off a nice solo over the break, perhaps surprising himself as he flubs the vocals after his solo! Greg also shows a fine sense of humor as well as a great sound, playing the riff to "Layla" during his organ solo on "Cocaine". "Somewhere Over the Rainbow" is omitted from the radio broadcast, instead only the band introductions are heard. This incredible remaster from the 3BR team is a massive improvement over the orignal radio show recording, not only because it now has far more dynamic range, life, and hiss reduction, but also because the annoyong announcer who kept shouting "Live Concert! Live Concert!" has been deleted from the mix! Don't miss this one...