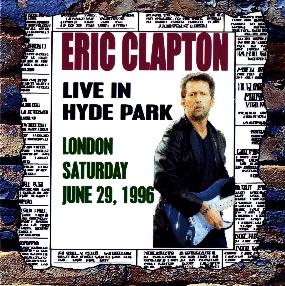 Live in Hyde Park
London, England - June 6, 1996 - 3BR Records - SB 6

Disc 1:

Layla
Badge
Hoochie Coochie Man
I Shot the Sheriff
It Hurts Me Too
Wonderful Tonight
Five Long Years
Tearing Us Apart
Disc 2:

Old Love
Tore Down
Have You Ever Loved a Woman
White Room
Every Day I Have the Blues
Holy Mother
Review: Nearly thrity years after the legenday free concert that marked the first public performance of Blind Faith, Clapton returned to London's Hyde Park for his participation in the 1996 Prince's Trust series, performing a full set with his hybrid band. The 1996 tour was an odd one - he used his 'blues tours' band, added his pop band singers, and performed a 'hybrid' set of his pop and blues shows. Hyde Park was cold and blustery that day, and EC and band find it slow going to get 'warmed-up'. Nonetheless, once the show is moving, some great sparks fly - "Five Long Years" is one of his best readings, "Tearing Us Apart" finally gets the soul muscle he was looking for, "Every Day I Have The Blues" just roars and swings. This is taken from the Japanese laser disc (longer than USA laser and VHS) and carefully remastered by 3BR. It's one of those that you'd put on for casual listening, and recommended - especially if you were never able to locate the Japanese edition of this release.

Also check out some alternate cover art that mimics the laserdisc release.