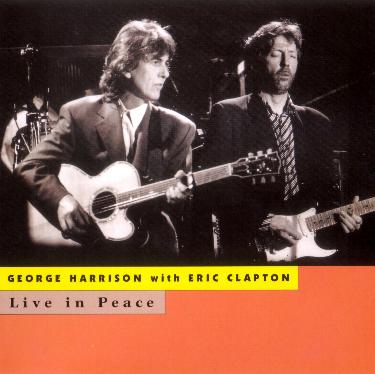 George Harrison with Eric Clapton - Live in Peace
Hiroshima, Japan - December 6, 1991 - Front Page FP-0040020/1 - Aud 3

Disc 1:

I Want to Tell You
Old Brown Shoe
Taxman
Give Me Love
If I Needed Someone
Something
What is Life
Dark Horse
Piggies
Pretending
Old Love
Badge
Wonderful Tonight
Disc 2:

Got My Mind Set On You
Cloud Nine
Here Comes the Sun
My Sweet Lord
All Those Years Ago
Cheer Down
Devil's Radio
Isn't It a Pity
While My Guitar Gently Weeps
Roll Over Beethoven
Comments: Perhaps the best of all the George Harrison / EC performances from the all-too-short 1991 tour of Japan. EC is on fire and at his best, wailing away with wild abandon. Compare this performance with that used on the official release from the tour and you'll wonder what the idiots at the label were smokin' when they made that decision!