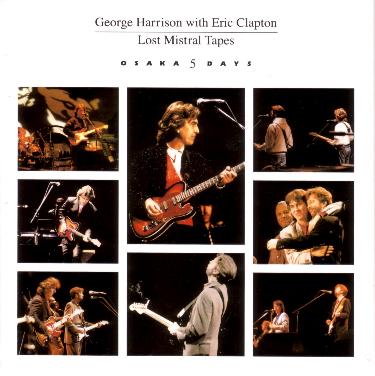 George Harrison with Eric Clapton - Lost Mistral Tapes
Osaka, Japan - December 1991 - Front Page FP0040010-19

Comments: 10CD Box Set compiles all the Osaka appearances on the 1991 tour, including the performances on December 2nd, 3rd, 10th, 11th, and 12th, 1991.


December 2 - Aud 3 - Nice show except for the screamers!
December 3 - Aud 4 - Listenable but a tad dark sounding. This recording ends with "While My Guitar Gently Weeps" so one would assume the encore is missing.
December 10 - Aud 4 - EC's guitar is real up front in the mix, as the taper must have been sitting directly in front of his amplifier. Check out D1 T7, for an advanced master class in EC's rhythm guitar work, something normally overlooked and underrated. One finds it difficult to do this on most recordings as the rhythm guitar is usually buried in ... well, the rhythm. Although the disc in total would rate an Aud 4, for EC's guitar in particular this disc would rate a cool Aud 6. And don't forget to check out EC's above-the-grade work on 'Devil's Radio' and 'While My Guitar'.
December 11 - Aud 3 - In stark contrast to the recording of the previous night's performance, this one is inferior, and in particular EC's guitar is really buried quite low in the mix. But, as is usual in life, some losses bring gains of their own, and in this case the mix afforded the taper brings out the percussion nicely. Check out the tasty "rat a tat tat" percussion during 'Here Comes the Sun'.
December 12 - Aud 3 - A passable, but otherwise forgettable recording.