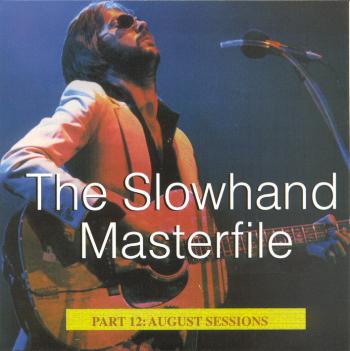 Eric Clapton - The Slowhand Masterfile 12: August Sessions
Los Angeles, Ca. - April-May 1986 - Antrabata - SB 5

Track List:

Walk Away
Miss You
Take a Chance
Run
Bad Influence
Hung Up On Your Love
Grand Illusion
Wanna Make Love to You
Walking the White Line
Holy Mother
The Mask
Hold On
Lady From Verona
Geetarz Comments:
Let's face it ... we all have our flaws. When it comes to music, I'm as opinionated as anyone else, and generally can be quite unforgiving of musical styles I don't care for. But I do have my weaknesses. It's confession time - I did dig the Bay City Rollers, and have been known to tap my foot to 'S.A.T.U.R.D.A.Y. NIGHT'. I did purchase the "Men at Work" album. And, heresy as this may be, M's "Pop Music" was a favorite of mine. Heck, I've even dropped a dime in a jukebox for Lipps, Inc's "Funkytown"!
Now, Clapton's two Phil Collins-produced albums, 1985's "Behind the Sun" and 1986's "August", each have their share of detractors. I think this may be a case where people are reacting more to feel than substance, because although the production techniques and sounds used were very much in a slick pop vein, that only serves to disguise the fact that these are - in my opinion - some of EC's finest post-Dominos' work. Just as EC's grand 1970 opus was fueled by his unrequited passion for Patti Boyd Harrison, these two releases are the document of the final failure of that doomed relationship, and charged with much of the same underlying emotion as the earlier release.
"Behind the Sun" - although uneven - chronicles this in the sadness of "Never Make You Cry", the chained rage of "Just Like a Prisoner", and the angry guitar of "Same Old Blues". Ignore the fluffy, radio-oriented tracks and concentrate on the meat of the album and you'll strike gold. And guitar playing? I defy you to find anything in EC's post-Dominoes studio release catalog to compare with the volcanic futy of the solos on "Same Old Blues". The final wailing cry of "Prisoner" is almost matched by the first verse's quiet, anti-solo that a younger Eric may have burned through with less economy.
And after this came "One More Car" ... oops, I mean, "August". Forget for a second the Warner-forced opening number, instead imagining the recording opening with the torrid "Wanna Make Love to You". Immediately, there is a different feel to this album. Then the next series of tracks all span the course of failed love - denial, anger, bargaining, depression, and finally, acceptance. Although Clapton did not pen some of these songs, the turmoil and emotion of his personal life scream through the vocals and his playing, culminating in what is in my opinion one of the few studio recordings EC has never topped live on stage - the blistering "Miss You". This album may not resonate with someone who is happy - but toss this one in the CD player of someone in the middle of an ugly breakup, and every song has meaning. "Grand Illusion" closes with a perfect feel after all the previous tension, and guitar work that is both haunting and soaring at the same time.
Both these works are tremendously underappreciated, and I feel in many ways are better. more cohesive studio albums of original material than those that came later (we will leave "From the Cradle" out of this discussion"). Definitely worth a fresh listen.
This release, part of the Slowhand Masterfile series, provides that fresh look with a tasty assortment of outtakes and alternate mixes.
Beginning with a nice long version of "Walk Away", we immediately get a glimpse into the mind of producer Phil Collins when we compare this with the shorter cut on the official release. The missing length and edits change the feel of the song quite a bit.
Track 2, "Miss You", again has a quite different vibe from the officially released version in part due to a longer running time, but also due to a different arrangement that allows for more guitar work. Continuing in this vein, "Take a Chance" feels quite laid back compared to the tighter album version due to an extended run and arrangement.
The really intriguing portions of this release which set it apart from some others, are the exploratory versions of several songs also devoid of vocals. Stripped down to the bare essentials, these allow better access to the finesse of EC's rhythm guitar playing (something that is often overlooked) as well as the deft hand of Collins' arrangement. Not to mention an opportunity to practice your karaoke skills by singing the verses yourself!
Perhaps the only real strike against this compilation is the omission of a final, edited version of the unreleased "Lady of Verona" with vocals, which would have rounded it out nicely - and given stark contrast to the feel of the official release. Still, this CD is a real treat for anyone wishing to dig a litle deeper into one of EC's more underappreciated albums. So dig in - and enjoy!