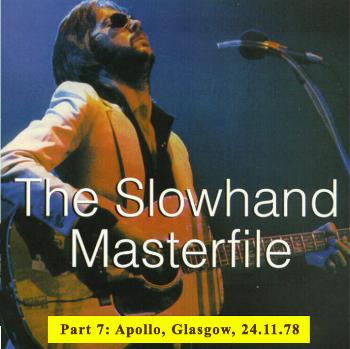 Eric Clapton - The Slowhand Masterfile Part 7: Apollo, Glasgow
Glasgow, Scotland - November 24, 1978 - Antrabata - SB 5

Disc 1:

Layla
Worried Life Blues
Tulsa Time
Early in the Morning
Badge
Wonderful Tonight
Kindhearted Woman Blues
Disc 2:

Key to the Highway (*)
Further On Up the Road (*)
Cocaine
Double Trouble
Crossroads
Comments: (*) features Ian Stuart, Jerry Portnoy, and Bob Margolin. There are occasional fluctuations int the mix during "Worried Life Blues" - it goes to just drums for a few seconds! This may be the listener's one chance to hear an isolated drum track on an EC recording !
I've always made fun of people who yell out requests for songs during a performance, but this is one occasion where it actually works. As EC begins introducing a song from 'Backless', some punter in the audience yells out and EC responds "oh, you want some Robert Johnson eh?" and then plays "Kindhearted Woman" instead, and this is interesting to compare to, say, one of the performances of this song from the 2004 tour. One difference of note, the line "Makes Mr. Johnson Drink" is of course changed to "Makes Mr. Clapton Drink" in the 1978 performance.