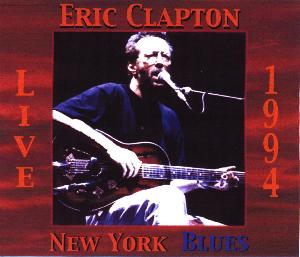 New York Blues
Irving Plaza, NYC - November 28, 1994 - lun - Aud 5

Disc 1:

Motherless Child
Malted Milk
How Long
Kidman Blues
County Jail
.44
Blues All Day Long
Goin' Away
Standing Around Crying
Hoochie Coochie Man
It Hurts Me Too
Blues Before Sunrise
Third Degree
Reconsider Baby
Sinner's Prayer
Before You Accuse Me
Disc 2:

Early in the Morning
Everyday I Have the Blues
Someday After a While
Tore Down
Have You Ever Loved a Woman
Crosscut Saw
Black Cat Bone
Five Long Years
Crossroads
Groaning the Blues
Disc 3: Rehearsals - September 28, 1994 - SB 5

Motherless Child
Hoochie Coochie Man
Malted Milk
Tore Down
Sinner's Prayer
Born Under a Bad Sign
Five Long Years
Crossroads
.44
Driftin'
Ain't Nobody's Business
Comments: Nice to have these in one place, but simply a repackaging of the material released on, for example, Club Full of Blues and Live Rehearsals. Nothing really worthwhile here, as the other releases present these performances in better quality and packaging. Avoid.