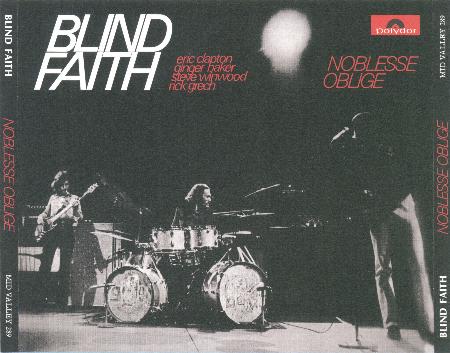 Front Cover
Back Cover
Cover Art
Cover Art
Cover Art
Cover Art
Cover Art
Cover Art
Cover Art
Cover Art
Cover Art
Cover Art
Cover Art
Cover Art
Blind Faith - Noblesse Oblige
Santa Barbara, Ca. - August 16, 1969 - Mid Valley 289 - Aud 5
Track List:
Stage Announcement
Well Allright
Can't Find My Way Home
Had to Cry Today
Sleeping in the Ground
Crossroads
Presence of the Lord
Means to an End
Do What You Like
Sourced directly from the master tape and then nicely tweaked by Mid Vally, this is the ultimate expression of this recording and essential listening for any true fan. As usual, the packaging presented with the release is as exceptional as the audio quality, and a joy to behold. Recommended.
Visitor Comments:
"Ltd edition of 500 from MV with some amazing packaging including a handy Blind Faith notepad. How can you live without one? This release is probably the best version of the concert available, but omits the encore, 'Sunshine of your love'. Instead, we get a 5 minute intro from some stoned MC wittering on about gatecrashers. Better if MV had cut this out altogether as it's of no interest to anyone now. It's a good performance, but listening to it with the benefit of hindsight you can sense the band has run its course. Somehow it seems to be 4 individuals playing together, but somehow not quite as a band. Highlight has to be Ginger introducing Presence of the Lord as a hymn by the Rev Eric Clapton." - DR