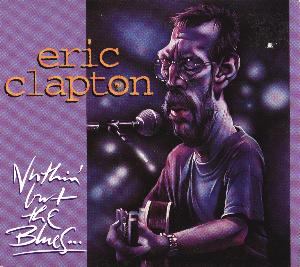 Nuthin' But the Blues
Various - Tuff Bites 95/1021 - SB 6

Disc 1:

Blues Leave Me Alone
Standing Around Crying
.44
It Hurts Me Too
Five Long Years
Crossroads
Malted Milk
Motherless Children
How Long
Reconsider Baby
Sinner's Prayer
Every Day I Have the Blues
Someday After a While
Crosscut Saw
Have You Ever Loved a Woman
Tore Down
Groanin' the Blues
Ain't Nobody's Bizness
Disc 2:

Early in the Morning
Driftin'
Cross This Town
Double Trouble
All Your Love
Further On Up the Road
Nobody Loves You When You're Down And Out
Milk Cow Blues
Bright Lights, Big City
Comments: Worth acquiring if only for the wonderful caricature on the front cover - but as if that wasn't enough, this remastered compilation actually manages to sound better than the legendary The Blues Concert. Fold out cover, purple jacket with yellow and black leopard print CDs - if this set was a car it would *have* to have fuzzy dice hanging from the rear view mirror. Hard to find but worth the effort.