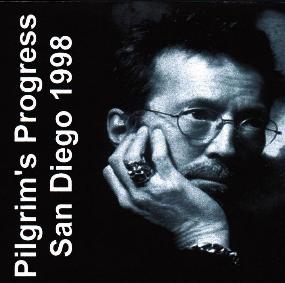 Pilgrim's Progress
San Diego, Ca. - May 26, 1998 - Geetarz 069/070 - Aud 5

Disc 1:

My Father's Eyes
Pilgrim
One Chance
River of Tears
Going Down Slow
She's Gone
Driftin'
Tears in Heaven
Layla
Change the World
Disc 2:

Old Love
Crossroads
Have You Ever Loved a Woman
I Shot the Sheriff
Wonderful Tonight
Cocaine
Sunshine of Your Love
Note: CD Mastering by Geetarz: DAT (Mas) > DAT (Clone) > Tascam DA20Mk2 > HHb CDR800. Cover Art by Geetarz.