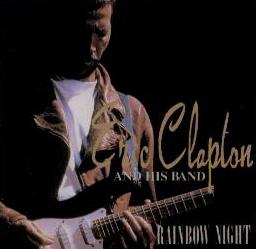 Rainbow Night
Rainbow Hall, Nagoya, Japan - October 14, 1993 - Slowhand Music - ECRN0141/2 - Aud 5

Disc 1:
1) Malted Milk
2) Terraplane Blues
3) How Long
4) 32-20
5) Kidman Blues
6) County Jail Blues
7) .44
8) Leave Me Alone
9) Tell Me Mama
10) White Room
11) Badge
12) Wonderful Tonight
13) Stone Free

Disc 2:
1) Circus Left Town
2) Tears in Heaven
3) Crossroads
4) Tearing Us Apart
5) Groaning the Blues
6) Cocaine
7) Ain't Nobody's Business
8) Layla

Note: I've always enjoyed the mix of blues and rock in some of these shows, and this is definitely one of the best. The set starts off acoustic, highlights are a nice version of the rarely performed "32-20" and "Tell Me Mama", neither of which made their way onto later setlists. The show really takes off with a powerful version of "White Room", one of ECs best performances of that song. Great work from the band, as well, especially the backing vocals, which also show up on the outro of the song, which is unusual. A nice version of Badge, and the obligatory run-through of "Wonderful Tonight" precede a rocking performance of "Stone Free". Disc 2 starts off with nice versions of "Circus" and "Tears", the segues back into the electric set into the electric set with an unusual arrangement of "Crossroads", very different from the rock version played in the early 90s or the reggae-tinged version played on the blues tours. "Cocaine" is quite interesting, as it moves less on loud power chords but instead on a "groove" arrangement, featuring nice harmonica work by Jerry Portnoy. A nice electric version of "Layla" is the encore and is only marginally marred by Andy Fairweather-Low's inability to properly play the "Layla" riff on the chorus. An excellent, very listenable show. Recommended.