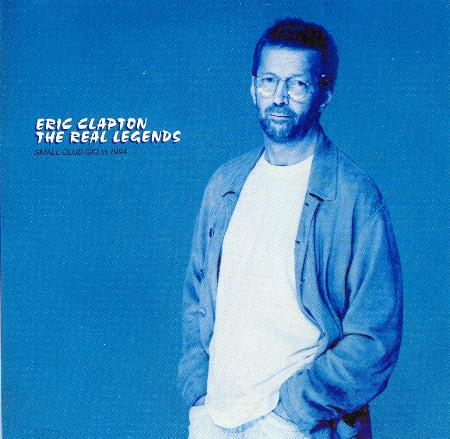 Eric Clapton - The Real Legends
Chicago, Ill. - November 17, 1994 - DJ Copy - Aud 3

Disc 1:

Motherless Child
Malted Milk
How Long
Kidman Blues
County Jail
.44
Blues All Day Long
Going Away
Standing Around Crying
Hoochie Coochie Man
It Hurts Me, Too
Blues Before Sunrise
Third Degree
Reconsider Baby
Sinner's Prayer
You Can't Judge Nobody
Early in the Morning
Disc 2:

Every Day I Have the Blues
Someday After A While
Tore Down
Have You Ever Loved a Woman
Crosscut Saw
Five Long Years
Crossroads
Groaning the Blues
Ain't Nobody's Business
Geetarz Comments: Okay, now here's a mystery to hurt your brain! First, Zigzag released the The Lost Club Shows set, of which the first set was purported to be recorded at Buddy Guy's Legends club on November 17, 1995. But the cover art for that title is incorrect, because the first recording in that set is actually the first show from the Royal Albert Hall run in 1995. So then, DJ Copy released this title, "The Real Legends", which claims to be the missing November 17, 1995 show recorded in Chicago. Beware that some websites list this title as being recorded on November 7, 1995, which is clearly incorrect even if no absolute determination can be made of the exact recording date.
Sound quality is clear, but marred by a good deal of tape hiss and whine. A good, worthy performance, but worthy only to those who have the ability to tune out the recording deficiencies and enjoy the show!
Visitor Comments: "Hi-thought I'd tell you 'bout'The Real Legends'. I was lucky enough to go to the Chicago, N.Orleans & N.York shows. I managed to tape the penultimate night at Legends-incredibly tight security, plus Alfie, who we knew and let us in, said to me specifically '..and no taping the f****** show'. I have to admit that I did anyway, but blindly. I used to have a Sony D6 Pro and just turned the machine on and hoped the levels didn't peak. They did for the first few songs then after a quick peek at the meter I turned the recording level down. The tapes of all the N.Orleans shows were all from my masters. I did tape NY but at least 2 better versions have come out. Plus, on the last, great night, I had the 'pause' button on the whole damn show!" - MS