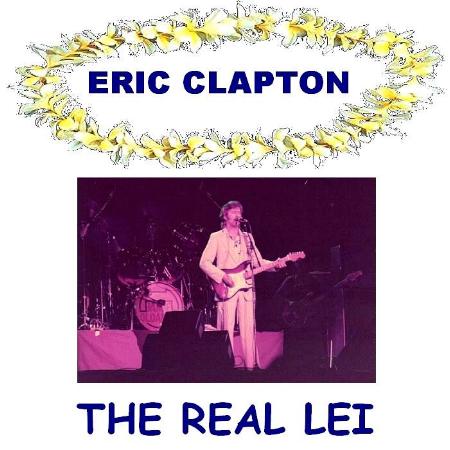 Front Cover
Front Inside
Back Cover
Back Inside
Eric Clapton - The Real Lei
Honolulu, Hawaii - October 9, 1977 - CD-R2 - Aud 3


Eric Clapton - The Real Lei
Honolulu International Center
(now called Neal Blaisdell Center)
Honolulu, Hawaii
October 9, 1977


Disc 1:
1. The Core  11:17
2. I Shot The Sheriff  9:42
3. Double Trouble  7:46
4. Badge  9:24
5. Yvonne Elliman Introduction  1:16
6. Can't Find My Way Home  6:28
7. We're All The Way  3:31
8. Sign Language  4:13
9. Nobody Knows You When You're Down And Out  4:21

Disc 2:
1. Cocaine  8:53
2. Its Too Bad >>>
Ramblin' On My Mind  14:50
3. Knockin' On Heaven's Door  6:07
4. Layla >>>
All I Have To Do Is Dream  14:14
5. Tell The Truth  14:24
6. Key To The Highway  2:24 (incomplete)

The Band:
Eric Clapton  guitar, vocals
George Terry  guitar
Carl Radle  bass
Jamie Oldaker  drums
Dickie Simms  Keyboards
Yvonne Elliman  backing vocals
Marcy Levy  backing vocals

Artwork by Kream included.
Hym also spent time working on this and
I appreciate both of their efforts very much.

Lineage:
Audience>tape>analog to digital>cdr>EAC>Flac frontend 6

My rating: Aud 4+

My comments: This recording, The Real Lei,
has NEVER been circulated. Volume dips at the start of Layla.
Ignore the crowd between tracks.
The crowd quiets during the songs. Delicate Beauty
by Cross Border may be soundboard, but, IMHO, this
is real good...the real thing!

Does anyone ever see hbpackers downloading and
always leaving nice comments ending with the word mahalo?
Today, I say Mahalo (thank you) to hbpackers! This is all
his recording. I hope everyone gives him a big mahalo!

hbpackers comments:
Wow!  Over 29 years ago, both EC and I were young pups back
then!!  I was still in college but graduated later on that semester.
Life was so good then...sigh.  Anyway, this recording was done on
a hand-held monaural Panasonic cassette recorder with a built-in
mic (...no way I remember what the model was). Used two Maxell
tapes but flipped them as they were getting close to the end
(...restarted the recording on the exact opposite side of the tape,
no rewinding to get back to the beginning of the B side). My goal
was not to let the tape run out in the middle of a song. The strategy
worked fine except at the end when I ran out of tape and didn't dare
try to figure out how to tape over a section not used
(...plus I was too busy enjoying the performance).  "KTTH" was the
last song so it is the only one incomplete.  For the pictures used in
the artwork, I used a Canon AE-1 (...black body, of course!)
and a Canon 80-200 zoom.  Many thanks to Kini for digitizing my
tapes so that this show could be shared.
I never thought this recording was good enough to share with
anyone other than my friend Steve, who's sitting next to me and
some of the great uploaders - ECMM, Musicfinder and 38f -
but ECMM was pumped and thought it was very listenable.
I hope you all enjoy this show as much as I did.