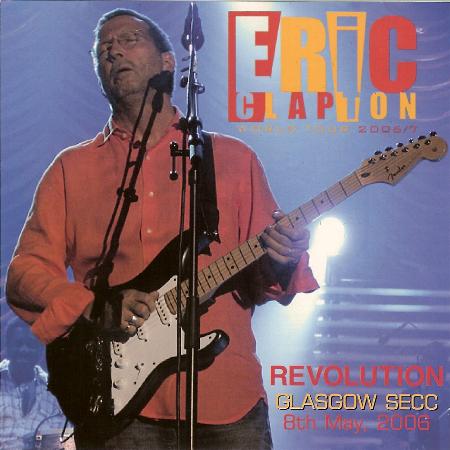 Front Cover
Front Inside
Back Cover
Back Inside
Eric Clapton - Revolution
Glasgow, Scotland - May 8, 2006 - ARMS 59/60 PR - Aud 5/6
Disc 1:
Pretending
So Tired
Got to Get Better in a Little While
Run Home to Me
Revolution
Let it Rain
Back Home
I Am Yours
Nobody Knows You
Milkcow's Calf Blues
Running on Faith
Disc 2:
After Midnight
Little Queen of Spades
Everybody Ought to Make a Change
Motherless Children
Wonderful Tonight
Cocaine
Layla
Crossroads
This is one of those somewhat quirky audience recordings that sounds perhaps like an Aud 3 / Aud 4 when played on most home or car stereos, but takes on a new life and sounds completely different in the Aud 5 / Aud 6 range when enjoyed on good headphones. EC tosses in a neat little intro solo on "Cocaine" and then continues with a cool solo, starting out very dissonant on the low strings. A fun, enjoyable audience recording. Recommended.