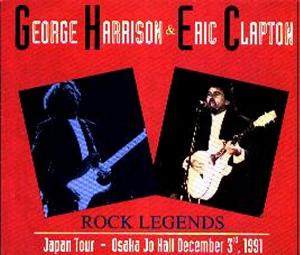 Rock Legends / Japan Tour 91
Osaka, Japan - December 3, 1991 - Mistral Music - MM 9222/23 - Aud 4

Disc 1:

I Want to Tell You
Old Brown Shoe
Taxman
Give Me Love
If I Needed Someone
Something
What Is Life
Dark Horse
Piggies
Pretending
Old Love / Badge (incomplete)
Wonderful Tonight
Disc 2:

Got My Mind Set On You
Cloud Nine
Here Comes the Sun
My Sweet Lord
All Those Years Ago
Cheer Down
Devil's Radio
Isn't It a Pity
While My Guitar Gently Weeps (December 10, 1991)
Comments: The bootography lists this as an Aud 6 - I'll have to disagree and instead confer an "Aud 4" given the fact that although the recording is in fact very crisp and clear, the amount of reverb and echo do take it down a couple notches. Still, a good, listenable audience recording. "Old Love" and "Badge" are incomplete, and run together as one track.