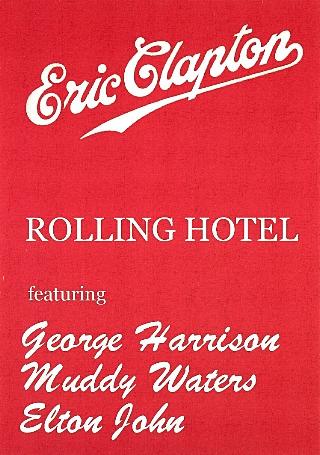 Eric Clapton's Rolling Hotel
1979 - 3ology - DVD-R1 - 75 min.

Comments: It happens all the time. You're crusing down the open road at highway speed and then, inexplicably, with no apparent reason, you encounter a traffic backup. Pretty soon you're bumper to bumper, stop and start, just easing along at a few miles an hour. Then, finally, you see the reason why - there's a nasty car crash on the other side of the freeway, and everyone is slowing down to catch a glimpse. It's a part of basic human nature, the desire to see disaster in all its forms.
As far as "Rolling Hotel" is concerned, it's not a car accident but in fact a train wreck that people seem compelled to see for themselves. This is a nice clean release of the 75 minute version of "Rolling Hotel", easily better than that seen on the EC Is Here release, and the best available to date. I mean - it still SUCKS, but it least it sucks in better quality. The cover art is incorrect, claiming bonus tracks from "Saturday Night Live 1979" which in fact is 1990. The bonus tracks are flawed at a basic level in the originals and will not play properly - no matter as they are available on other sources in much better quality (unlike the main program).
So, if you're the type who just absolutely, postively, has to slow down to see the carnage, this is the DVD for you! After all, there *are* some positive aspects to "Rolling Hotel" - if EC is ever in danger of falling off the wagon, all one will need to do is to play back for him his drunken rendition of "Smile", and he'll immediately lose the urge!