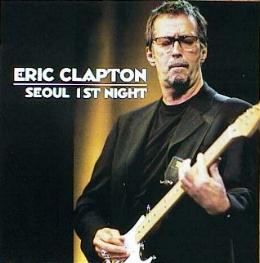 Seoul First Night
Olympic Gymnasium, Seoul, Korea - October 9, 1997 - Heart Breakers - HB 927 1/2 - Aud 3

Disc 1:
1) Layla
2) Change the World
3) Nobody Knows You
4) Tears In Heaven
5) Going Down Slow
6) Broken Hearted
7) Pilgrim
8) Sick and Tired
9) I Shot the Sheriff

Disc 2:
1) Wonderful Tonight
2) Tore Down
3) Have You Ever Loved a Woman
4) Tearing Us Apart
5) Cocaine
6) Old Love
7) Everyday I Have the Blues
8) Before You Accuse Me

Note: The sound is very distant, with lots of near crowd noise. It's difficult to listen to at times during the acoustic set but the average volume goes up during the electric portions of the set. This show marks the first public performance of several new songs, which EC introduces by saying "We're going to do some new songs for you ... Seoul ... and I look forward to buying them tomorrow morning". The first half of the show is a bit laid back, but in the second half of the show EC EC explodes out of the gate with rousing performances of Tore Down, Have You Ever Loved a Woman, and Tearing Us Apart. "Old Love" features a brilliant solo that brings the crowd to its feet, capped off by exceptional piano work at the end by Joe Sample.