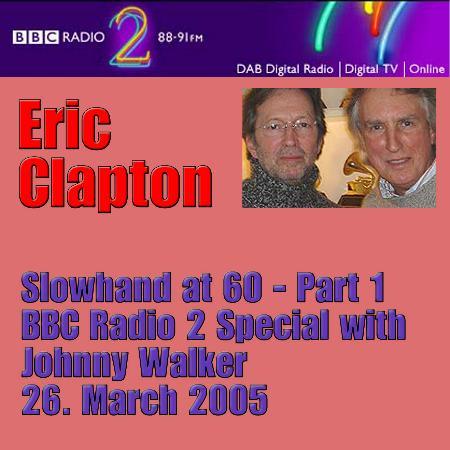 Front Cover
Back Cover
Eric Clapton - Slowhand at 60: Part 1
BBC Radio - March 26, 2005 - PHR Recordings - CD-R1 - SB 6
Track List:
BBC Radio 2 Jingle
Introduction by EC / Me and the Devil
Introduction by Johnnie Walker
Me and the Devil
Interview with EC
I Wish You Would
Interview with Pete Townshend
For Your Love
Interview with EC
Got to Hurry and Comments by EC
Interview with John Mayall
Telephone Blues and Comments by EC
Ramblin' On My Mind
Introduction by Johnnie about Cream
I Feel Free
Interview with EC
White Room and Comments
Spoonful
Interview with EC about Cream Reunion
Crossroads
Introduction by Johnnie about Blind Faith
Can't Find My Way Home and Comments
I'm Coming Home
Introduction by Johnnie about Derek and the Dominos
Keep on Growing / Layla
Interview with EC
Little Wing
Interview Eric Clapton and George Harrison
Nobody Knows You
Interview with EC
Introduction by Johnnie for Part 2
In the week of his 60th birthday, Eric Clapton joins BBC Radio 2 Host Johnnie Walker (born the same day) for his first full length interview in a number of years. To be transmitted in 2 parts, Eric recalls his 40-plus years in the music business beginning with the Yardbirds and Cream before progessing to international stardom as a solo performer.

Eric also talks openly about his personal battles with drug and alcohol addiction [Geetarz note: as with many recovered addicts, it is actually impossible to get him to SHUT UP about it!] and gives a remarkable insight to his music and his philosophy of music making.