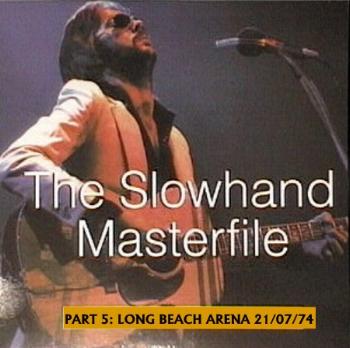 Eric Clapton - Slowhand Masterfile: Part 5
Long Beach, Ca. - July 20, 1974 - Antrabata - SB 5

Disc 1:

Introduction
Smile
Easy Now
Let it Grow
I Shot the Sheriff
Layla
Little Wing
Willie and the Hand Jive
Get Ready
Badge
Disc 2:

Can't Find My Way Home
Ramblin' On My Mind
Let it Rain
Presence of the Lord
Crossroads
Steady Rollin' Man
Band Introductions
Little Queenie
Blues Power
Comments: Please note that the date listed on the front cover is incorrect; the correct date for this show is July 20, 1974. "Can't Find My Way Home", "Driftin' and Driftin'" and "Presence of the Lord" from "EC Was Here" were taken from this show.