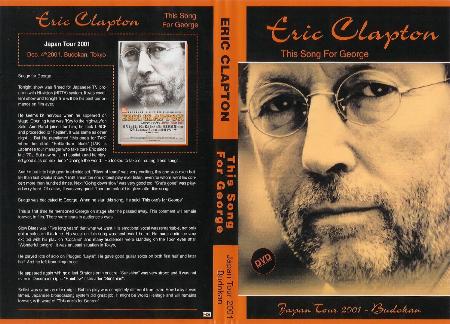 Cover Art
Cover Art
Eric Clapton - Song for George
Tokyo, Japan - December 4, 2001 - lun - DVD-R1
Disc 1:
Key to the Highway
Reptile
Got You On My Mind
Tears in Heaven
Layla (acoustic)
Bell Bottom Blues
Change the World
River of Tears
Goin' Down Slow
She's Gone
I Want a Little Girl
Badge
Hoochie Coochie Man
Five Long Years
Cocaine
Wonderful Tonight
Layla (electric)
Sunshine of Your Love
Somewhere Over the Rainbow
Bootleg version of the NHK TV Broadcast from this tour. Somehow this title has been slipped into some legitimate distribution channels such as Amazok.co.uk as well as other retailers. Quality is no better than that found on freely traded copies, and this release should be avoided.