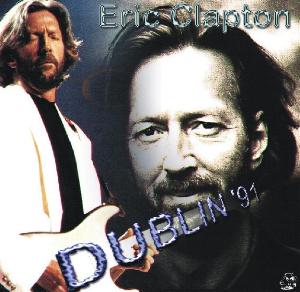 Eric Clapton - Straight to the Pointe
Dublin, Ireland - February 2, 1991 - CD-R2 - Aud 5

Disc 1:
1) Pretending
2) No Alabis
3) Running on Faith
4) I Shot the Sheriff
5) White Room
6) Can't Find My Way Home
7) Bad Love
8) Knockin' On Heaven's Door
9) Before You Accuse Me

Disc 2:
1) Old Love
2) Badge
3) Wonderful Tonight
4) Cocaine
5) A Remark You Made
6) Layla
7) Key to the Highway
8) Sunshine of Your Love



Note: An exceptional audience recording, especially considering the time period this was recorded. Instruments are clear and full, especially drums. Sounds almost soundboard instrumentally, the only weak spot is the vocals, which have a bit of echo and reverb on them. Some mic noise mars "Pretending" which is otherwise excellent, featuring an extra long solo break by EC. Nice piano intro to 'Running on Faith', with a nice piano solo as well. "Knockin' On Heaven's Door" is interesting, featuring vocals by both Nathan and Greg. EC manages to flub a line in "Wonderful Tonight" and apologizes with a "sorry" to laughter from the audience and the band. The highlight of this show is EC, alone at first on guitar and then accompanied only by Phil Collins on drums, with a great rendition of "Key to the Highway". Overall, a great show!