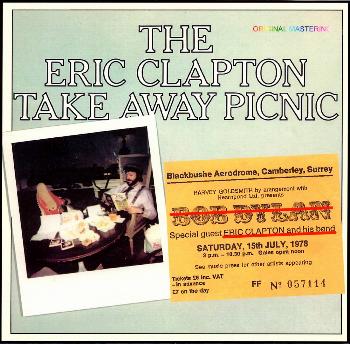 Eric Clapton - The Eric Clapton Take Away Picnic
Surrey, UK - July 15, 1978 - ECDR-784/4 - Aud 4

Disc 1:

The Core
Worried Life Blues
Wonderful Tonight
Lay Down Sally
Rodeo Man
Fool's Paradise
Cocaine
Double Trouble
Nobody Knows You
Disc 2:

Badge
Knockin' On Heaven's Door
Key to the Highway
Layla
Bottle of Red Wine (incomplete)
Forever Young (bonus track)
Comments: Recorded at Blackbushe Aerodrome, Camberly, Surrey. Eric Clapton and his band shared the bill with Bob Dylan at three large festival concerts, and at this, the third, EC joined Dylan on three songs. This recording includes one of those three songs, "Forever Young".
A nice, listenable audience recording that has been heavily tweaked and remastered. The remastering has lead to some characteristic flatness and some typical chorus weirdness on certain sounds like applause, but in this case I would say that the benefits outweigh the drawbacks, as the enhancements have taken a recording otherwise only useful for historical purposes, and turned it into something that is actually a fun listen. The only real drawback to this release is the fact that it omits the other numbers Clapton performed with Dylan.