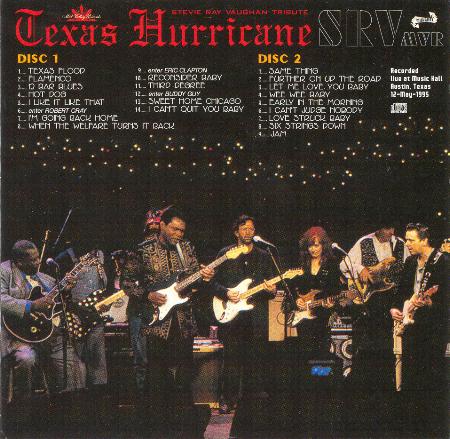 Front Cover
Front Inside
Back Cover
Back Inside
Eric Clapton - Texas Hurricane
Austin, Texas - May 12, 1995 - Mid Valley 332/333 - Aud 4
Disc 1:
Texas Flood
Flamenco
12 Bar Blues
Hot Dog
I Like it Like That
... Enter Robert Cray ...
Going Back Home
When the Welfare Turns its Back
... Enter Eric Clapton ...
Reconsider Baby
Third Degree
... Enter Buddy Guy ...
Sweet Home Chicago
I Can't Quit You Baby
Disc 2:
Same Thing
Further On Up the Road
Let Me Love You Baby
Wee Wee Baby
Early in the Morning
I Can't Judge Nobody
Love Struck Baby
Six Strings Down
Jam
Recorded right after the "SRV Tribute".