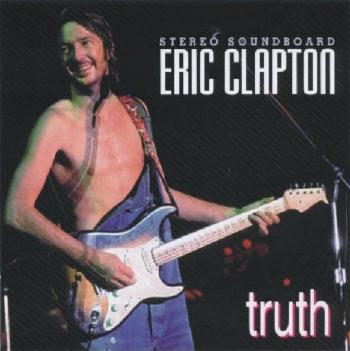 Eric Clapton - Truth
Long Beach, Ca. - July 19, 1974 - Outrider - OR-9816/7 - Aud 4

Disc 1:

Smile
Let it Grow
Can't Find My Way Home
I Shot the Sheriff
Badge
Willie and the Hand Jive
Get Ready (incomplete)
Disc 2:

Crossroads / Steady Rollin' Man
Mainline Florida
Layla
Have You Ever Loved a Woman
Tell the Truth
Steady Rollin' Man
Little Queenie
Blues Jam (featuring John Mayall)
Comments: Disc times are 43:02/62:33. Although the CD cover proudly proclaims this to be a "stereo soundboard" it is in fact a decent audience recording only - a careful listen on headphones will reveal crowd noise near the taper. EC is quite chatty throughout this show (read: drunk) and introduces John Mayall for the encore with "we've one more song to play for you ... whatever the fuck it is ...". 'Crossroads' segues into "Steady Rollin' Man" which is not listed on the CD jacket track listing.