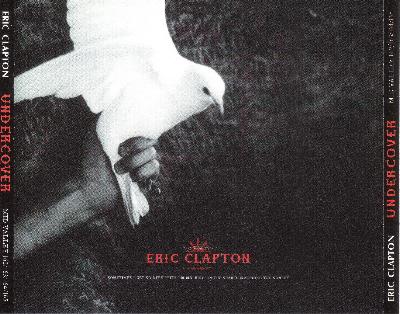 Eric Clapton - Undercover '74
Mid Valley Records ©2002

Disc 1: Jersey City, NY - July 7, 1974

Smile
Let it Grow
Let it Rain
Key to the Highway
Willie and the Hand Jive
Get Ready
Presence of the Lord
Badge
Tell the Truth
Have You Ever Loved a Woman
Little Queenie
Disc 2: Providence, RI - July 10, 1974

Smile
You Have to Hurt Nobody
Have You Ever Loved a Woman
Blues Power
Key to the Highway
Presence of the Lord
Bright Lights, Big City
I Can't Hold Out
Willie and the Hand Jive
Get Ready
Disc 3: Providence, RI - July 10, 1974

Little Wing
Layla
Little Queenie

Atlanta, Ga. - August 1, 1974

Smile
Let it Grow
Mainline Florida
Bright Lights, Big City
Tell the Truth
Willie and the Hand Jive
Get Ready
Disc 4: Atlanta, Ga. - August 1, 1974

Let it Rain
Badge
Layla
Baby Don't You Do It
Little Queenie

Jersey City, NY - July 7, 1974

Introduction
Smile
Let it Grow
Let it Rain
Tell the Truth
Little Queenie
Crossroads
Comments: Another typically excellent Mid Valley release, this time compiling together shows from the 1974 tour. Included in the package are reproductions of the 1974 Tour booklet. Here are some of the highlights:
Disc 1: EC is very "loose" (ie, "drunk"), especially on vocals. On 'Let ir Rain', the band gets into a nice funky vamp at the end. EC quips "mind if I have a drink?" (we think you already had a few too many, Eric!). EC mangles the vocals for 'Key to the Highway' and then, annoyed, sings "when I leave this time, it's the fucking last time !". The band, at least, is agreeably tight, and segues loosely from one track to another beginning with 'Willie and the Hand Jive' all the way through to 'Badge'. Freddie King joins the band for both 'Have You Ever Loved a Woman' and 'Little Queenie'.
Disc 2: EC begins the concert quite annoyed ... understandably so: "I want the guy to who threw the beer bottle to know that he hurt one of my people ... so don't throw things, you've hurt one of us already ...". After the opener of 'Smile', the band goes into a vamp similar to "Singin' the Blues" while EC sings "you don't have to hurt somebody", then calling out "slow blues ... same key", and sliding into "I Loved a Woman". In "Get Ready", Yvonne Elliman gets in a dig of her own, singing "throwing your fucking bottles!!!".
Disc 3: "Layla .... you BITCH !!!!". During "Little Queenie", "... stop the bombs ... NO MORE WAR !!!".
Disc 4: EC is joined by Pete Townshend and Keith Moon for "Baby Don't You Do It" and "Little Queenie". Rounding out Disc 4 is an audience recording of the July 7, 1974 show at Roosevelt Stadium, New Jersey which rounds out numbers not included in the soundboard version. Freddie King guests on this as well.