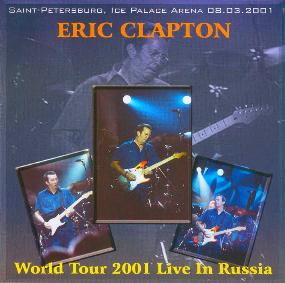 World Tour 2001 - Live in Russia
Ice Palace Arena - St. Petersburg, Russia - April 8, 2001 - 71:42/50:56 - Aud 5

Disc 1:

Key to the Highway
Reptile
Tears in Heaven
Bell Bottom Blues
Change the World
My Father's Eyes
River of Tears
Going Down Slow
She's Gone
Got You On My Mind
Disc 2:

Don't Let Me Be Lonely Tonight
Travelin' Light
Hoochie Coochie Man
Have You Ever Loved a Woman
White Room
Wonderful Tonight
Layla
Sunshine of Your Love
Somewhere Over the Rainbow
Comments: Date on cover incorrectly listed as "08.03.2001", and "Wonderful Tonight" is missing from the listing on the cover as well. A well done very listenable audience recording. Killer "She's Gone", one of the best performances of that song of the tour! One of the only performances of "White Room" on the tour as well. There are two different audience recordings in circulation of this particular show, this one is recognizable easily not only by the disc times and sound quality but because someone sitting right next to the taper coughs right at 0:01 as "River of Tears" begins. This recording is not only complete but is also far superior to Ice Palace Arena in terms of sound quality.