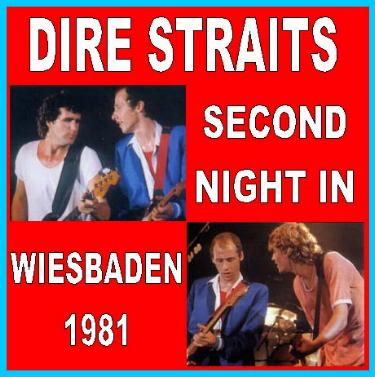 Dire Straits - Live in Wiesbaden
Wiesbaden, Germany - May 6, 1981 - CD-R2 - Aud 4

Disc 1:

Intro / Once Upon a Time in the West
Expresso Love
Down to the Waterline
Lions
Skateaway
Romeo and Juliet
News
Sultans of Swing
Disc 2:

Portobello Belle
Angel of Mercy
Tunnel of Love
Telegraph Road
Where Do You Think You're Going?
Solid Rock
Comments: CD-R2 directly from cassette master. Small tape malfunction in master during "Sultans of Swing". The original cover art is also available in Microsoft Word format (please note that this cover art prints out to European (A4) size covers, not US size).