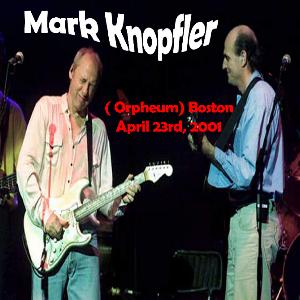 The Orpheum
Boston, Ma. - April 23, 2001 - CD-R2 - Aud 3

Disc 1:

Calling Elvis
Walk of Life
Who's Your Baby Now
Rudiger
Intro + What it Is
Sailing to Philadelphia (with James Taylor)
Raised Up Family (with James Taylor)
El Macho
Romeo and Juliet
Sultans of Swing
Disc 2:

Done With Bonaparte
Junkie Doll
Baloney Again
Pyroman
Telegraph Road
So Far Away
Money For Nothing
Brothers in Arms
Comments: Special guest James Taylor! Distant and a difficult listen at times, probably for diehard collectors only. Pity because James Taylor is great!