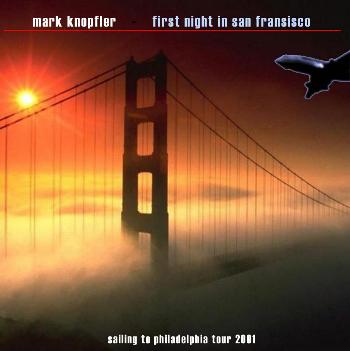 Mark Knopfler - Berkeley Center
San Francisco, Ca. - May 17, 2001 - CD-R2 - Aud 3

Disc 1:

Calling Elvis
Walk of Life
Rudiger
What it Is
Sailing to Philadelphia
Romeo and Juliet
Sultans of Swing
Done With Bonaparte
Who's Your Baby Now?
Disc 2:

Junkie Doll
Speedway at Nazareth
Pyroman
Telegraph Road
Prarie Wedding
Money For Nothing
So Far Away
Comments: The first of two performances in San Francisco on the STP tour.