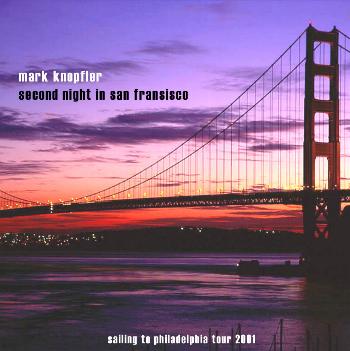 Mark Knopfler - Berkeley Center
San Francisco, Ca. - May 18, 2001 - CD-R2 - Aud 5

Disc 1:

Calling Elvis
Walk of Life
Rudiger
What it Is
Baloney Again
Romeo and Juliet
Sultans of Swing
Done With Bonaparte
Sailing to Philadelphia (with William Topley)
Disc 2:

Junkie Doll
Speedway at Nazareth
Pyroman
Telegraph Road
Brothers in Arms
Money For Nothing
So Far Away
Comments: Nice, very listenable audience recording of the second of two performances in San Francisco, on the STP Tour. Special guest William Topley on "Sailing to Philadelphia". This show was also recorded and portions were broadcast on legendary local station KFOG as well as on Spanish radio with a slightly different setlist.