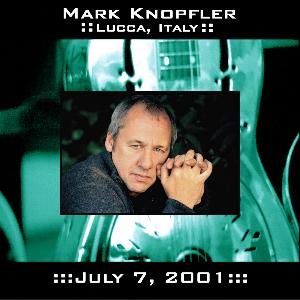 Mark Knopfler - Lucca Soundboard
Lucca, Italy - July 7, 2001 - CD-R2 - SB 6

Disc 1:

Calling Elvis
Walk of Life
What it Is
Romeo and Juliet
Sultans of Swing
Olé, Olé
Done With Bonaparte
Who's Your Baby Now
Disc 2:

Wag the Dog
Junkie Doll
Speedway at Nazareth
Telegraph Road
Brothers in Arms
Money for Nothing
Comments: Sourced from satellite radio broadcast. Incomplete but great sound quality! There is also a remastered version available as well as the ultimate version which mixes both the soundboard and audience recordings together!