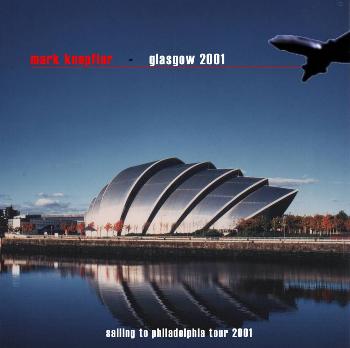 Mark Knopfler - Clyde Auditorium
Glasgow, Scotland - July 20, 2001 - CD-R2 - Aud 3

Disc 1:

Calling Elvis
Walk of Life
What it Is
Romeo and Juliet
Sultans of Swing
Done With Bonaparte
Sailing to Philadelphia
Who's Your Baby Now?
Baloney Again
Disc 2:

Prairie Wedding
Junkie Doll
Speedway at Nazareth
Telegraph Road
Brothers in Arms
Money For Nothing
So Far Away
Wild Theme
Comments: Good, listenable audience recording. Would you like to know the definition of "sucking up to an audience"? Playing a few bars of "I Belong to Glasgow" during "Calling Elvis" - this goes over great with the hometown crowd as they cheer! During "So Far Away", Mark shouts "Clear Off!" - apparently the security folks were hassling some people dancing and he did not like that! Very nice.