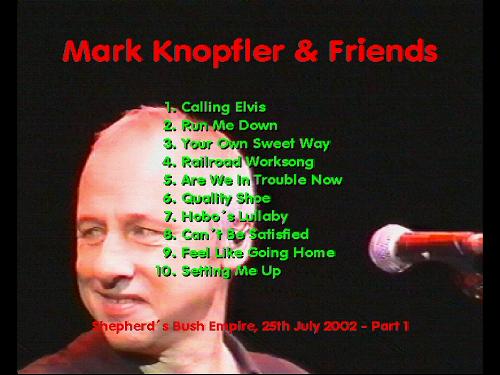 Mark Knopfler and Friends - Shepherd's Bush Empire
London, England - July 25, 2002 - VideoCD - Button - CD-R2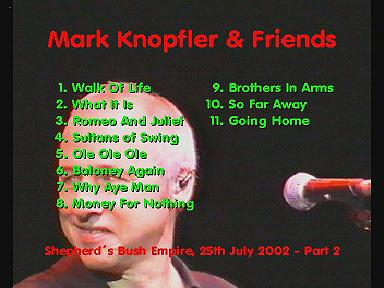 Comments: Deep in the heart of Germany lives a reclusive mad scientist, known by name only to the the members of his secretive organization: Button Recordings. Locked in the basement with computers and VCRs, this mad scientist sets out not to create a Frankenstein monster, but to push the boundaries of physics as we know them. Using a fusion reactor powered by toenail clippings and a particle accelerator constructed of tinfoil and those little metal strips that seal loaves of bread, this man and his disciples have created the world's finest VideoCDs, pushing back the boundaries of space and time. Yes, it's true, here you have the world's first multi-angle VideoCD release, complete with titles, overlays, and effects. Extreme caution is advised when viewing, pregnanat women and nursing mothers should check with their physicians before watching, lest they be awed by the production! Who knows what will come next - the world eagerly awaits the next release!
Oh, and yes, Knopfer and company put on a pretty good show, too!