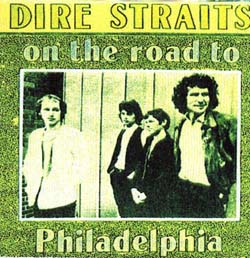 On the Road to Philadelphia
Old Waldorf, San Francisco - March 31, 1979 - lun - 50:22 - SB 4

Disc 1:
1) News / part of Sultans
2) What's the Matter
3) Lions / Commique
4) Sultans of Swing
5) Eastbound Train
6) Southbound Again
7) Down to the Waterline
8) Six Blade Knife
9) Once Upon a Time in the West
10) Lady Writer
11) Where do You Think You're Going?

Comments: This is not to be confused with the 'Seagull CD 007' release of this show. This one is being sold on CD-R with a poor copy of the original vinyl album cover. Sourced from vinyl, the recording contains crackles and pops, and worst of all, the idiot who recorded it to disc recorded side 2 first so the show is in backwards order! Avoid this at all costs, and if you are obtaining a copy of the show, make sure you have the Seagull release or similar, that has the show in the correct running order. No comparison for sound quality has been made at this time but it is expected that the Seagull release is probably superior. Just in case this isn't confusing enough, There is also a vinyl release titled "On the Road to Philadelphia" that is sourced from the show at the Tower Theatre in Philadelphia, Pa. on March 6, 1979.