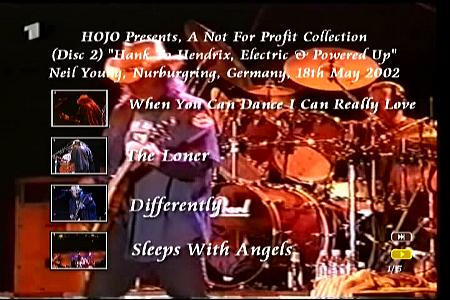 Neil Young with Poncho and the MG's - Rockpalast
Eifel, Germany - May 18, 2002 - HOJO - DVD-R1

Track List:

When You Dance, I Can Really Love
The Loner
Differently
Sleeps With Angels
Are You Passionate?
Goin' Home
Cinnamon Girl
Cortez the Killer
Let's Roll
Powderfinger
Quit (Don't Say You Love Me)
She's a Healer
All Along the Watchtower
Two Old Friends
Mr. Soul
Down By the River
Fuckin' Up
Helpless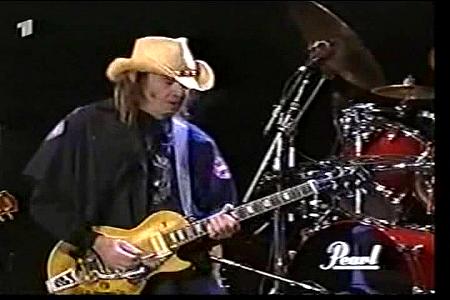 Comments: Recorded at the Nürburgring Racetrack, Eifel, Germany and aired on "Rockpalast" TV after a 2 hour delay. This is the typical "Rockpalast Mix" soundboard that at times sounds like both a pure soundboard or a pure audience recording. The HOJO release is a nicely authored NTSC conversion. Although the main menu only shows four songs (and it is unclear if there are any other menu pages and/or how one should access them) this is the complete performance as broadcast.





2002-05-18-rock-am-ring-dvd-1.jpg
500x409x16M [21 KB]

2002-05-18-rock-am-ring-dvd-2.jpg
500x409x16M [30 KB]

2002-05-18-rock-am-ring-dvd-3.jpg
500x409x16M [25 KB]

2002-05-18-rock-am-ring-dvd-4.jpg
500x409x16M [22 KB]

2002-05-18-rock-am-ring-dvd-5.jpg
500x409x16M [25 KB]

2002-05-18-rock-am-ring-dvd-6.jpg
500x409x16M [23 KB]

2002-05-18-rock-am-ring-dvd-7.jpg
500x409x16M [29 KB]

Created by CD2HTML (© 1998 by Falk Petro)


Band:
Neil Young: Vocals, Guitar, Harmonica
Frank Sampedro: Guitar, Keyboards,Vocals
Booker T. Jones: Keyboards
Donald "Duck" Dunn: Bass
Steve "Smokey" Potts: Drums
Pegi Young: Background Vocals, cellphone
Astrid Young: Background Vocals, Keyboards